Creating your custom plastic cups has never been easier.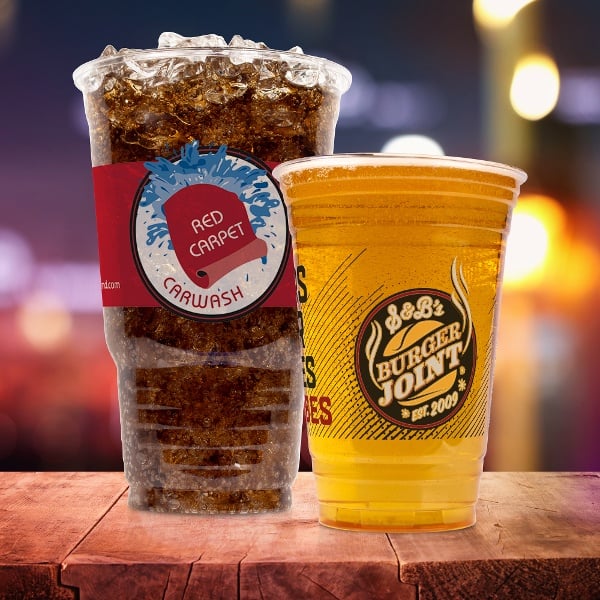 Personalized plastic cups are a consumer and business favorite for a reason.
Not only do they showcase your business's unique brand, but they can also turn almost every drink into a work of art. If you're serving artisan coffee drinks or craft beer, your customers can see the product and the care it took to bring that treat to life.
And even if your customer is taking their drink to go or getting something right out of the fountain, the crystal clarity of a plastic cup can turn any drinking experience (and your brand) into a memorable one. If your business wants a 33 percent increase in customer retention, custom plastic cups are a staple for your bottom line.
At Morrison Cup Solutions, we're excited to help you develop the plastic drinkware products that help your business shine.
Not sure which option is suitable for what you do? Check out our guide to cup sizing to find the right plastic cup for you and your business.
Don't sweat the details. That's our job.
Learn more about our process and substrates.
Custom printed plastic cups — designed with your unique artwork.
There's hard science to back up the importance of personalized cups. For every dollar spent on personalized promotional items, a company can yield anywhere from 100 to 1,000 unique ad impressions — compared to just 17 to 200 for traditional broadcast TV and radio spots. That's a lot of ad power in just pennies on the dollar.
When you work with our design team, forget your logo in the middle of some bland white cup. We turn your cup into the very extension of your brand, turning your logo or art into a wholly unique branded experience.
And if you don't have access to your logo files? We can rebuild it for you. None of the other custom cup printers out there will do that.
Stadium versus PET and PP plastic cups — what's the difference?
The answer: a lot!
PET and PP cups are
Made from Polyethylene Terephthalate (PET) or Polypropylene (PP)
Sturdy cups for cold drinks but can lose their shape and stability when a hot beverage is poured into them
Recyclable
Single-use
Souvenir (also known as stadium cups) are
Made from a much sturdier plastic substrate than PET or PP
Generally dishwasher safe
Recyclable
Multi-use friendly
Injection Molded
Used as party favors or cups for events
Who needs a custom plastic cup? Everybody.
Ready to customize your brand's new best friend? We've served almost every industry imaginable.








If you don't see your industry listed, drop us a line. We'd love to work with you.
What does it take to get my custom plastic cups printed?
Our plastic cups range in price from $0.05 to $0.25 per piece. If you'd like more specific information, use our custom cup tool to figure out your price estimate!
Some variables include cup selection, run amount, production times, how many business days you want to receive your order, shipping options, and design complexity.
Our award-winning customer service team has your back. They can look at every factor (low or high volume run, shipping, and more) to come up with the best price for your budget.
Want to learn more about custom cup solutions?
Get our catalog to go! Download our free guides below.