Custom paper cups are the solution to your business needs.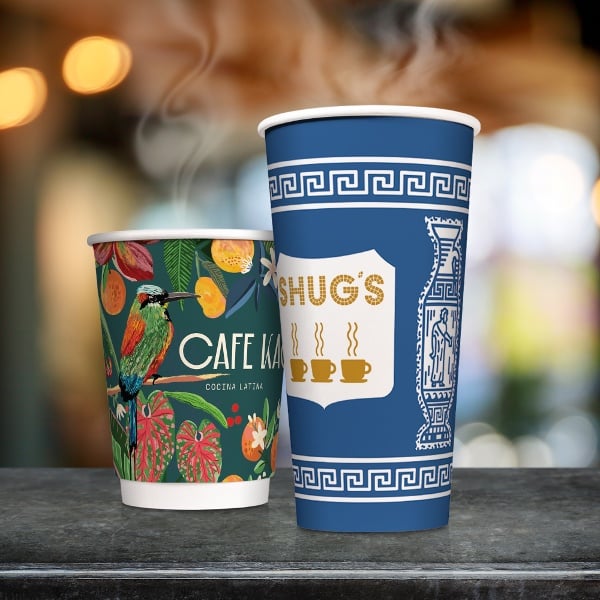 A cup can show a lot about a brand without saying a single word.
Studies have found that if a business pours their coffee or other beverage into a high quality custom branded cup, that business will have 33 percent more customer loyalty and brand recognition. And when it comes to small to medium-sized businesses, that 33 percent can make or break your business.
So at Morrison Cup Solutions, we make it easy and affordable to develop your custom disposable paper cup. From an in-house creative team ready to make your artwork shine to low minimum runs and flexible warehousing, we make it so simple you'll wonder why you didn't do it sooner.
So, what's it worth to you to have that increased customer retention? Let's get to work on your custom paper cup solution.
Not sure which option is suitable for what you do? Check out our guide to cup sizing to find the right custom paper cup for you and your business.
Custom printed paper cups — designed with your unique artwork.
Learn more about our process and accessories.
Custom printed plastic cups — designed with your unique artwork.
There's hard science to back up the importance of personalized cups. For every dollar spent on personalized promotional items, a company can yield anywhere from 100 to 1,000 unique ad impressions — compared to just 17 to 200 for traditional broadcast TV and radio spots. That's a lot of ad power in just pennies on the dollar.
When you work with our design team, forget your logo in the middle of some bland white cup. We turn your cup into the very extension of your brand, turning your logo or art into a wholly unique branded experience.
And if you don't have access to your logo files? We can rebuild it for you. None of the other custom cup printers out there will do that.
Coffee sleeves and more beverage accessories.
If you're looking for complementary accessories for your coffee or beverage program, we have more options available! We can work with you or your distributor to get you the custom branded bags, coffee sleeves, travel mugs, and stir sticks you need.
Who needs a custom paper cup? Everybody.
Ready to customize your brand's new best friend? We've served almost every industry imaginable.








If you don't see your industry listed, drop us a line. We'd love to work with you.
What does it take to get my custom paper cups printed?
Our paper cups range in price from $0.04 to $0.18 per piece. If you'd like more specific information, use our custom cup tool to figure out your price estimate!
Some variables include cup selection, run size, production speed needed, shipping choice, and design complexity.
Our award-winning customer service team has your back. They can look at every factor (low or high volume run, shipping, and more) to come up with the best price for your budget.
Want to learn more about custom cup solutions?
Get our catalog to go! Download our free guides below.