Simplify your beverage service needs with custom foam cups.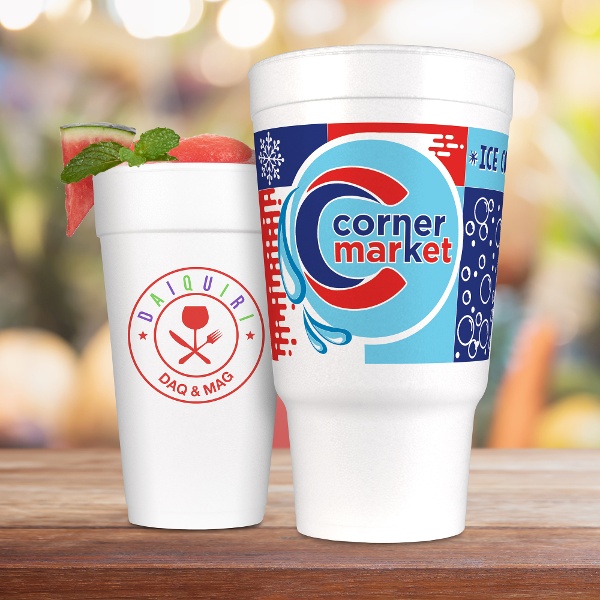 Foam cups — printed with your business's logo and art — guarantee you'll be in their mind and their hand, no matter where they go.
And as an ambitious business ourselves, we get the importance of keeping your brand in front of your customers.
That's why at Morrison Cup Solutions, we offer custom printed foam cups with some of the smallest minimum runs on the market, all carefully designed and laid out by our in-house creative services team.
If you're looking for a versatile product that works for hot and cold drinks, with low minimum runs and short production turnaround, Morrison Cup Solutions delivers every time.
Not sure which option is suitable for what you do? Check out our guide to cup sizing to find the right foam cup for you and your business.
Personalized foam cups — designed with your custom artwork.
Learn more about our process and substrates.
There's hard science to back up the importance of personalized cups. For every dollar spent on personalized promotional items, a company can yield anywhere from 100 to 1,000 unique ad impressions — compared to just 17 to 200 for traditional broadcast TV and radio spots. That's a lot of ad power in just pennies on the dollar.
When you work with our design team, forget your logo in the middle of some bland white cup. We turn your cup into the very extension of your brand, turning your logo or art into a wholly unique branded experience.
And if you don't have access to your logo files? We can rebuild it for you. None of the other custom cup printers out there will do that.
What's the difference between the typically printed styrofoam cup and personalized cups from Morrison Cup Company?
Fun fact: The typical consumer-grade personalized "styrofoam cup" or foam cooler is made from a substance called expanded polystyrene (EPS), a plastic substrate that looks and feels like sugar. The reason why it became the standard choice in custom printed cups is because of its insulating properties.
EPS is 95 percent air in between tiny plastic pellets. Air in any insulation helps resist the transfer of temperature. When this science is applied to the concept of a foam cup, a polystyrene (styrofoam) cup allows hot or cold beverages to retain their temperature.
Who needs a custom foam cup? Everybody.
Ready to customize your brand's new best friend? We've served almost every industry imaginable.








If you don't see your industry listed, drop us a line. We'd love to work with you.
What does it take to get my custom foam cups printed?
Our foam cups range in price from $0.05 to $0.25 per piece. If you'd like more specific information, use our custom cup tool to figure out your price estimate!
Some variables include cup selection, run amount, print colors, production speed, how many business days you want to receive your order, shipping choice, and design complexity.
Our award-winning customer service team has your back. They can look at every factor and come up with the best price for your budget.
Want to learn more about custom cup solutions?
Get our catalog to go! Download our free guides below.